Technical Overview
Blue Vault Digital technical services and systems are constantly being updated to provide our
customers with the latest and most efficient way to deliver store content to their customers. Please click

 Here to download the latest PDF brochure on our content.
Table of Contents
1. BVD technical overview system details
Multi-platform support
Software and storage
Payment and security
2. BVD website walk-through
Browse and sort capabilities
Browse by label
Top 10 album and song downloads
Album details and description
Your cart and wish list
Subscriptions
3. BVD content descriptions
Hosting & technical information
The BVD platform
System features
Quantitative details
4. BVD reports and administrative tools
Multi-platform support
We provide support of PCs, portable media devices, mobile phones, and home and car entertainment systems.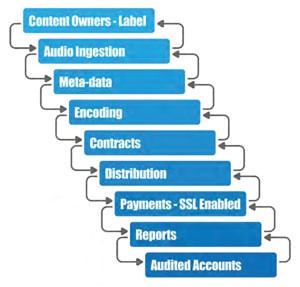 The Blue Vault Digital store software:
The store platform has been built using a combination of PHP5 and Microsoft .NET technology. PHP is a HTML-embedded scripting language. Much of its syntax is borrowed from C, Java and Perl with a couple of unique PHP-specific features thrown in. The goal of the language is to allow web developers to write dynamically generated pages quickly. PHP stands for Hypertext Pre-processor. All source code for the stores remain the proprietary property of the developers.
The Blue Vault Digital customer data storage:
Each client's store has the capacity to store terabytes of user and store-generated data. Each store is allocated 200 GB of user-generated data space. Aggressive growth is managed via the data store team who constantly monitor and report on the available hard drive space and the data creation rates of growth for each store. We constantly monitor and maintain each stores systems and infrastructure to insure 99.9% uptime always.
The Blue Vault Digital browser compatibility:
Each store is coded to be compatible with the following browsers:
Internet Explorer 5
Internet Explorer 6
Internet Explorer 7
Netscape – all versions
Mozilla Firefox – all versions
Safari for MAC
Mac format for Firefox and Internet Explorer.
Payment systems:
The Blue Vault Digital Store uses the following payment gateways. Custom payment gateway solutions are available on request.
Security & SSL encryption certificates:
www.verisign.com
Today, the world expects to gain access to voice and data services any time, anywhere, and on any device. And organisations are working hard to meet the rising demands of this "any era." VeriSign offers solutions that help organisations to deliver in the any era, and realise the maximum profit. Our goal is that the Blue Vault Digital Store focuses our company, our technology, our services, and our people towards the fast and most efficient delivery of digital entertainment available today.
Album details:
This is the album detail page, the destination after you have browsed or searched for your music. It provides the user with the ability to sample the full album using the Blue Vault Digital Sampler. All titles or tracks can be added directly to your cart or saved in your wish list for purchase at another time.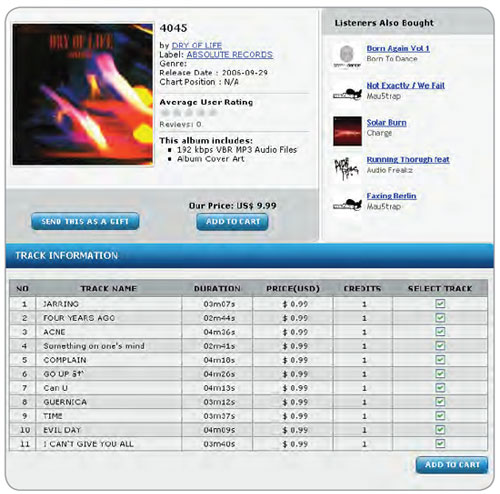 Album description:
At the bottom of the album detail page the user will find more resources to expand their Blue Vault Digital enquiry. Blue Vault Digital offers an album description or review when available along with other titles by the artist.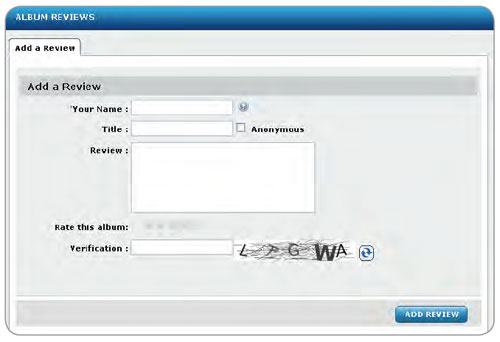 Your cart and wish list:
Both of these sections are located on the same page, which make user management of audio selections as friendly as possible. Additionally, users have the ability to move purchases back and forth between their account [cart] and their wish list. Any item can also be completely removed at will. From this page the user can also continue shopping or proceed to checkout and begin to download their selections.
The downloading process at Blue Vault Digital was created with simplicity and user ease in mind. Not only can you download an entire album as a zip file with one click, but also album art and liner notes are inclusive when available. All tracks or albums may be downloaded in quality 192 kbps MP3 format. There is a 24-hour download window for all purchases. The download clock only begins when you make your first attempt to download.

Subscription plans or a la carte:
Blue Vault Digital offers both Vaultcards and Giftcards. Vaultcards are prepaid cards which give the user free tracks upon purchase. After a purchase users may quickly proceed through the checkout process. Giftcards may also be purchased for a friend or that special someone with a three month pre-purchase. Also we have the "A La Carte" option, which allows the user the freedom of purchase without a subscription plan.
However, when a user has an active subscription plan, a running total of their subscription credits remains on the left hand side of the site at all times so they can see how many credits they have remaining for the particular month.