Data Centre
Amazon Cloud Services and Rack Space USA manage the Blue Vault Digital Data Centre services. Our data partners offer the highest level of service delivery, availability of diverse bandwidth, scalable interconnection, complete network neutrality and multi-level physical security. As you become more familiar with the Blue Vault Digital Data Centre, you will find that our approach and commitment to our business can help you achieve your corporate objectives more completely.
Data Delivery Design
The Blue Vault Digital Data Centre's facilities are ISP Carrier Neutral. Those customers seeking a no-fuss resilient IP service with no single point of communication failure, utilising multiple Tier-1 IP providers, can comfortably elect to have the Blue Vault Digital Data Centre integrate their solution into this model.
The Blue Vault Digital Data Centre handles all BGP routing, IP address allocation and advertising, greatly simplifying your ability to migrate to the Blue Pie Data Centre. The key benefits of this are:
The ability to employ a carrier diverse network strategy very economically
The ability to leverage very competitive telecommunications pricing.
The Blue Vault Digital Data Centre is designed to support and protect mission-critical business operations and ensure customers can remain focused on their business with peace of mind regarding the backbone of their hosted solution.
Our Customers
Our customers include some of Australia's largest gaming companies, government organisations, and leaders in the entertainment industry. References are available on request.
Network Services
To augment your colocation and network requirements our data centre offers value-added services that allow customers to focus resources where needed most. Services include:
Network Services
Dedicated ISP connectivity at fixed rates
Multi-homed IP transit
DNS hosting and secondary mail post office services
Domain registrations
Full network managed service solutions
Remote backup facilities
Mail Hosting – mail watch anti virus and anti spam
Infrastructure Monitoring & Management
Server & network monitoring and notifications – BVDDC Smart Watch Service
Server and network management – BVDDC Smart Management Service
Physical hands-on trouble shooting 24×7 – BVDDC Smart Hands Service
Blue Pie Data Centre Monitoring And Management Services
The Blue Vault Digital Data Centre can monitor customer equipment and notify key personnel within your company of alerts, according to a pre-determined escalation procedure. This service can be used in conjunction with our Smart Hands Service to achieve resolution of any issue identified to your relevant personnel.
Smart Watch
The Smart Watch service is a 24×7, enterprise level, proactive monitoring and fault notification service for customer servers and networking devices located in the Blue Vault Digital Data Centre or at the customers local site.
The Smart Watch service is capable of monitoring the following services:
Server Resource – such as memory and disc utilisation, processes
Public IP addresses
Internet Port – well-known and user defined
URL
Link Status – for Cisco devices
An automated fault notification process will take place as soon as three consecutive ping tests or SNMP polls, with five-minute intervals between them, fail to reach the customer servers or networking devices. This polling will be done from the Blue Pie Data Centre Management server via the Internet.
The standard fault notification mechanisms are e-mail and SMS.
Smart Management
The Smart Management service provides customers with the day-to-day systems, and network administration outsourcing solutions for commonly deployed enterprise-level server operating systems, network device and firewall platforms located in the Blue Vault Digital data centre, or our customers local site.
The Smart Admin management tasks are divided into five categories:
Provisioning – device setup and configuration
Daily administration, including incident management
Change management – five change requests per device, per month
Patch management – operating systems and firmware
Vendor management
NOTE: These management tasks/services are not offered as a standalone service and come as part of the Smart Admin service. Each of these tasks has its own pre-defined internal process.
Smart Hands
Customers can be assured of continuous, trouble-free operations in remote locations by utilising the Blue Pie Data Centre Smart Hands service. Smart Hands will provide basic levels of assistance within the IBX® Centre including:
Inventorying a customer's equipment; taking digital pictures of equipment
Labelling equipment and cable connections
Ad-hoc changing of pre-labelled, pre-ejected removable media (tapes, CDs)
Providing visual verification to assist during a customer's remote troubleshooting
Installing, replacing or removing equipment components (e.g. a router/switch card, disk drive, memory, etc.) that are hot swappable and modular
Installing pre-configured equipment (ad-hoc)
Relaying status of equipment LEDs or typing commands on a console
Power cycling a router, server, switch; soft-booting a server
Installing patch cables from CPE to Patch Panel
Moving or securing a cable
Toggling a switch
Signal testing a circuit with diagnostic equipment
Loop back testing for Telco circuits (DS1, DS3, OC-3, and OC-12)
Power systems
The facility receives diverse power feeds from the local power company. It supports both redundant AC and DC power using parallel UPS systems, full battery back up, and generator back up – all in an N+1 configuration and exclusive of each building's infrastructure. The Uninterruptible Power Supply (UPS) is built on a multi-level N+1 configuration to achieve 99.999% uptime. A power distribution unit (PDU) supplies power – each PDU is connected to two UPS plants. Redundant generators in an N+1 configuration back up the UPS system. Onsite fuel supply allows for continuous operations of up to 72 hours.
The HVAC systems comply with N+1 specifications and include a centralised chilled water plant with multiple redundant chillers piped in parallel, ensuring continuous reliability and satisfying all cooling requirements.
Security
The following security measures that require multiple levels of authentication and authorisation are in place at the IBX® Centre:
Onsite security guard patrols the site 24/7.
The facility is monitored by CCTV Surveillance system
Key access areas are controlled by biometric hand scanners and/or secure access cards.
Visitors are required to check in first with the security guard. Valid identification is required.
All activities on premises are logged.
The first level is a 24 x 7 x 365 security team that monitors all physical access in and out of the IBX®. All physical and colocation area access points are secured around-the-clock with emergency exits wired to alarms. Video surveillance cameras monitor and record the perimeter and physical access points. Additional cameras monitor and record the colocation area itself. Security tapes are rotated every 30 days. The colocation area is physically separate from the rest of the IBX® Centre. Customers must pass through the security checkpoint prior to entering the colocation area.
Fire Suppression
The IBX® Centre is designed with multiple levels of fire detection and fire suppression systems. The Sydney IBX® has the following fire suppression systems:
VESDA – very early smoke detection system monitored by the Blue Vault Digital Data Centre BMS system
Zoned (double-interlock) pre-action water sprinkler system
Smoke detectors above and below raised floors
Hand-held fire extinguishers
VESDA
The Very Early Smoke Detection and Alarm System (VESDA) is in use at the IBX® Centre. VESDA provides the earliest warning of a potential fire emergency by detecting the initial, pre-combustion stage of smoke. This early warning allows for early intervention, limiting damage, loss and business disruption normally associated with fire. The VESDA system will detect a fire in advance of smoke or heat, immediately indicating where the problem area is. The VESDA system alone cannot activate the fire suppression systems. Smoke detectors are also used as a secondary measure of fire detection. Depending upon the country and local regulations, actual fire suppression is achieved via FM-200, NN100, INERGEN, or a zoned, pre-action, dry pipe sprinkler system.
Systems Architecture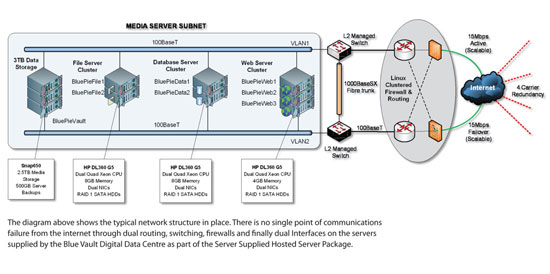 Image Index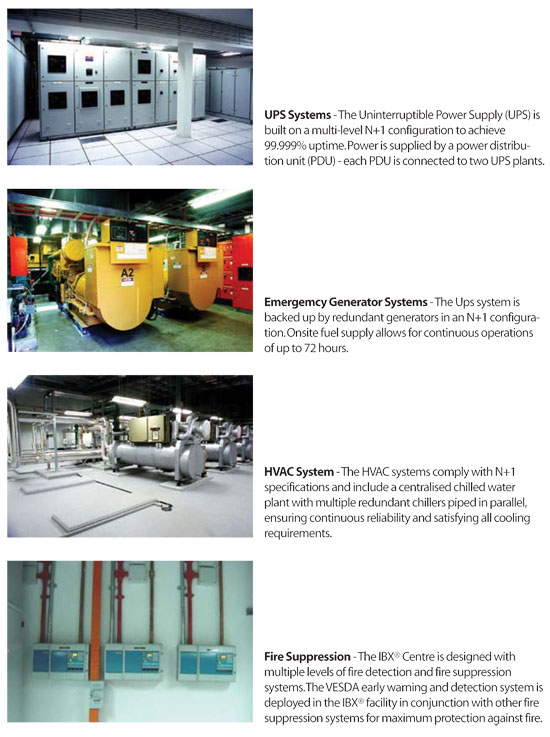 Proprietary Statement
The ideas and designs in this document and attached materials are the sole property of the Blue Vault Digital Data Centre and its contributing Partners. Nothing contained here in is to be disseminated, distributed or otherwise conveyed to a third party without the express permission of the Blue Vault Digital Data Centre.
Disclaimer Statement
This document is designed to address the use of the Blue Vault Digital Data Centre and Additional Services to be implemented for the Blue Vault Digital Data Centre. It is not to be considered a part of any agreement between the Blue Vault Digital Data Centre and a customer, nor are any statements contained herein to be considered representations, warranties or guarantees, either express or implied. This document is subject to the written approval of an officer of the Blue Vault Digital Data Centre, and will be promptly submitted for that approval upon indication from the customer that the document is acceptable.