Music Stores
Blue Vault Digital Music Stores
Blue Vault Digital provides our customers with a stand-alone digital entertainment store that can be adapted to reflect your brand and identity.
Your customers will be able to buy songs a la carte, download music as part of a subscription, and enjoy the best in music discovery – from editorial, playlists, search and advanced browse capabilities.
For more information or to speak with a Blue Vault Digital representative, please contact
sales@bluevaultdigital.com
Turnkey technology
The Blue Vault Digital turnkey technology enables your organisation to:
Generate new revenue
Acquire new customers
Deepen your current customer relationships.
We offer compelling entertainment experiences that create new opportunities for your brand.
Look and feel
The store is adapted with the client's brand and their corporate colour scheme in conjunction with their branding guidelines.
Advertising space
Fifty per cent of the available advertising space is for the exclusive use of the client; the other fifty per cent is used for the promotion of labels, artists and promotional content. The client's advertising space can be sold or used for their advertising purposes.
Content
Each brand has its own unique Sonic Brand within the main brand. As such we provide a filtering service for clients to ensure that the content on the website relates to their core brand values.
Genres
Blue Vault Digital provides the genre collection for the client and they have the right to change the collection to suit their brand. Additionally, we have core areas allocated for the promotion of Top Downloads, Brand Top 10, Top 10 Charts, Recent Additions, Favourites and Set Playlists.
My Blue Pie Music Store
A visual walk-through
This is a screen grab of the home page and the initial introduction to the actual experience.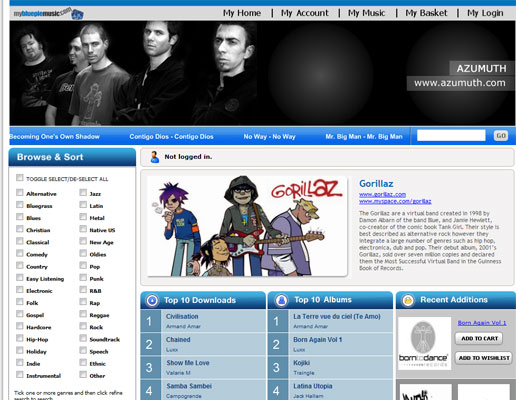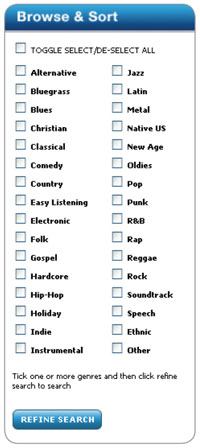 Browse by label:
Our users have the ability to browse by label. Many of our labels have individually branded storefronts. We have over 9,000 labels that we actively engage and sell content for.
Top 10 album and song downloads:
A dynamic chart that provides an up to the second list of the Blue Vault Digital top 10 Album and Song downloads. Top 10 lists are also available for every genre and artist.
Album details:
This is the album detail page, the destination after you have browsed or searched for your music. It provides the user with the ability to sample the full album using the Blue Vault Digital sampler. All titles or tracks can be added directly to your cart or saved in your wish list for purchase at another time.
Album description:
At the bottom of the album detail page, the user will find more resources to expand their Blue Vault Digital enquiry. Blue Vault Digital offers an album description or review when available along with other titles by the artist.
Your cart and wish list:
Both of these sections are located on the same page, which makes user management of audio selections as friendly as possible. Additionally, users have the ability to move purchases back and forth between their account [cart] and their wish list. Any item can also be completely removed at will. From this page, the user can also continue shopping or proceed to checkout and begin to download their selections.
The downloading process at Blue Vault Digital was created with simplicity and user ease in mind. Not only can you download an entire album as a zip file with one click, but also album art and liner notes are inclusive when available. All tracks or albums may be downloaded in quality 192 kbps MP3 format. There is a 24-hour download window for all purchases. The download clock only begins when you make your first attempt to download.
Subscription plans or a la carte:
Blue Vault Digital offers both Vaultcards and Giftcards. Vaultcards are prepaid cards that give the user free tracks upon purchase. After a purchase users may quickly proceed through the checkout process. Giftcards may also be purchased for a friend or that special someone with a three-month pre-purchase. We also have the a la carte option, which allows the user freedom of purchase without a subscription plan.
However, when a user has an active subscription plan, a running total of their subscription credits remains on the left-hand side of the site at all times so they can see how many credits they have remaining for the particular month.