Music Vouchers
Branded digital download vouchers
Blue Vault Digital offers a unique marketing opportunity for your brand to be associated with some of the world's best-known artists. Having a competitive edge in today's market can mean the difference between profit and loss. Click

here to download the latest PDF brochure on our music voucher products.
Music is a universal language and can be tailored to any demographic. We have over six million tracks available to download, with favourite household names and chart toppers growing every month. We represent some of the world's leading labels and digital entertainment content firms including:
EMI Music
Universal Music
The Orchard
INgrooves
Blue Pie
The Groove Merchants
How does it all work?
Blue Vault Digital has secured a vast digital music library at exceptional content prices. We provide you with access to our library and the special promotional content price structures that we have secured for volume sales.
Music vouchers can be purchased in the following denominations.
$10 Music Voucher
$20 Music Voucher
$50 Music Voucher
$100 Music Voucher
$250 Music Voucher
Your denomination. You set the price and we create the voucher for you.
Each music voucher comes with an automatic entitlement to have a free value-added subscription that allows our voucher holder to continue to enjoy the savings experienced with their music voucher.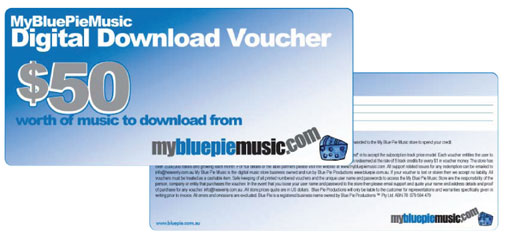 Gift with purchase strategies and marketing your product with Blue Vault Digital's music catalogue –
Marketing and promoting your brand with music is a powerful marketing tool. Our customers use our music vouchers to grow their business and engage their customers with exceptional value to drive sales. This helps to promote:
Increased consumption
Better customer relationships
Repeat business
Exceptional value increases your business via word-of-mouth
Everyone loves to tell their friends about a bargain
Example:
You want your customers to spend over $100 in your store on a particular line item.
Marketing idea:
Offer your customers a $50 music voucher with every purchase as a FREE value-added gift with purchase (GWP). This allows your brand to actively promote in the market an exceptional value call-to-action, offering $150 in RRP value all for $100.
Other Gift With Purchase or G.W.P ideas include:
Spend over $100 on clothes get $50 of music FREE!
Buy a set of new car tyres for $350 and get $100 of music FREE!
Buy any [your brand] white goods to the value of $500 and get $100 of music FREE!
Buy any new phone over $700 and get $100 worth of music to get you started.
The possibilities are endless and we can provide a program that best suits your business and clients. Simply put, Blue Vault Digital's music vouchers give you the edge over your competitors!
Blue Vault Digital will provide you with a complete turnkey solution including:
Pre-loaded quality branded voucher with a professional design. See the samples in this brochure. We will send you a PDF file with all artwork ready for you to print and send to your customers as required.
All login details and passwords for all vouchers are sent to you within 24 hours of your payment being made. You can then issue the vouchers to your customers and they can start to enjoy their music voucher instantly. The vouchers never expire.
A managed service when you provide us with all the information. We manage the process end to end including the mailing by post or emailing of vouchers to your customers.
All terms and conditions are listed on the back of the card and easy to read and follow.
For orders of over 1000 vouchers, we will provide you with a branded login screen.
A user guide on "How to use your voucher". Step-by-step instructions for accessing the music.
A complete turnkey solution. All you have to do is provide us with your artwork and a purchase order and we will do the rest.
How Much Do The Vouchers Cost?
All the vouchers and products itemised in this brochure are all priced based on volume orders.
Prices for all vouchers are on application and depend on:
Volume orders. You can order as little as 20 vouchers or as many as 100,000 or more, the choice is yours. The higher the volume the better the price point.
Marketing and promotional support.
The level of service support that you would like Blue Vault Digital to provide.
Special price structures can be created based on long-term commitments.
Special marketing and promotional content is available to help drive campaigns, including FREE promotional content that we have available to stimulate markets and sales with new customer bases.
How do I find out the costs to set up a campaign?
All quotes are completed within 72 hours. Campaign set up costs can vary from zero to over $5,000 and all depend on the level of support, design and general input that you require from Blue Vault Digital. You can ask for a quote by emailing sales@bluevaultdigital.com and make mention of this brochure.
Some of our many customers that enjoy success with our music vouchers include:

Branded Digital Download Vouchers
Sample Client Music Vouchers – Heavenly Group / NAB Promotion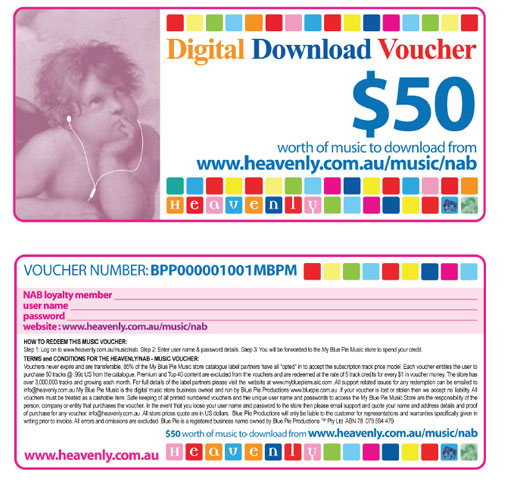 Sample Client Music Vouchers – Shoppers Advantage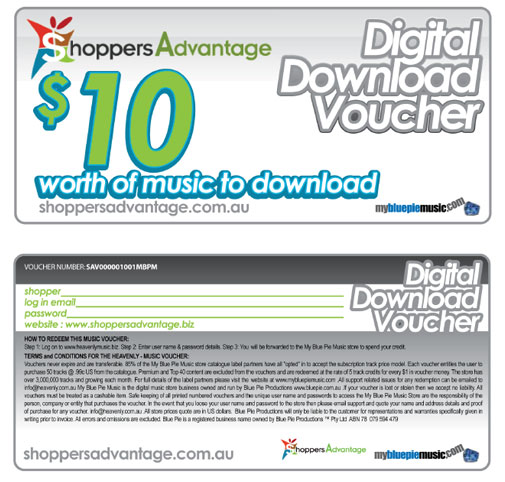 Alternate Voucher Redeemable after higher purchases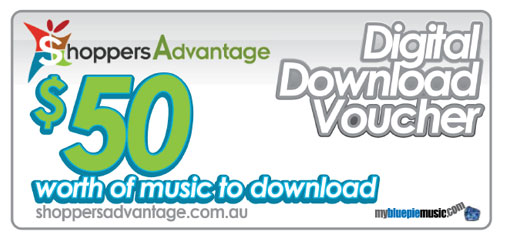 Signature MyBluePieMusic Voucher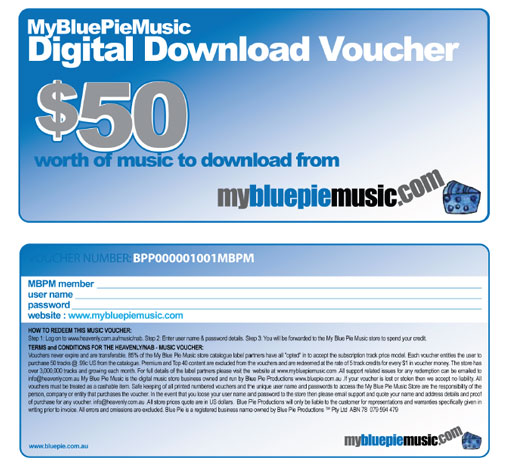 What Our Clients Say:
"The music vouchers are fantastic. We always get great comments from our customers. We work with most of the leading banks in Australia and some of the top reward programs and everyone loves the vouchers. Thanks Blue Pie for creating such a great value product." 
Susan Sparkes
– CEO
Heavenly –
heavenly.com.au

"These vouchers are great and so easy to sell to our customers. Our customers love them!" 
Vaughan Clarke
– CEO
Shoppers Advantage – 
shoppersadvantage.com.au

"The vouchers represent great value, they are easy to use and sell, we get no complaints. What more can you say!" 
Stuart Tabrett
– CFO
Job Futures – 
jobfutures.com.au

"We use the music vouchers to reward our many customers and to integrate them as part of our reward programs. Our customers send us great emails thanking us all the time. The store content is awesome and always growing. They always bring a good response from our customers." 
Dan Speak
– GM
Magic Blue Creative – 
magicbluecreative.com

"We have had a great response to the music vouchers from our customers – and they are good value too!" 
Julia Fort©
– Alliance Manager, Loyalty, Consumer Banking Solutions
National Australia Bank –
www.nab.com.au